MediXcelConnect
Manage your Clinic Seamlessly
MediXcelConnect brings you the power of the MediXcel EMR Platform in a simple, lightweight Clinic and OPD management tool. Manage Appointments, OPD Records, Prescriptions, Registers and Bills all in one place. Get started Now
---
MediXcelConnect has just the right features to make your clinic paperless, but still keep it Simple
---
Scheduling and Appointments:
Add, Cancel and Update Appointments with 2 easy steps. Manage Schedules of Multiple Doctors. Track no shows, late comers and time spent at the clinic by each patient to optimize time between and with patients. View Appointments for the day, week or month. See a timeline of your patient's history with you. Search returning Patient's quickly by name, mobile or Aadhar card number.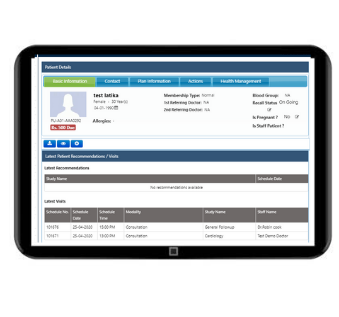 OPD Records
Use our specially crafted templates built with help from the experts in each specialization. Track Vitals, History and Other key indicators across patient visits. Add Lab Parameters values and Graph them over time. Work with special forms created for each supported Specialization to handle all your patients records at a single place. Attach External reports with a simple click of the camera.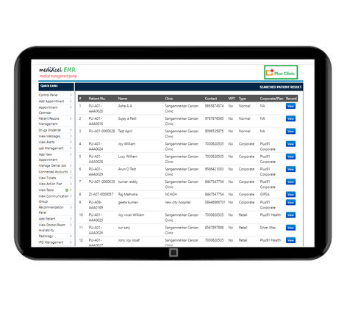 Prescriptions and Order
Digital Prescriptions can be created using our comprehensive medicine database. Get alerts for contraindications, side effects and drug interactions. Print prescriptions as per the MCI recommended format. Also add test recommendations for your patients. Create Templates of tests to be done for easy assignment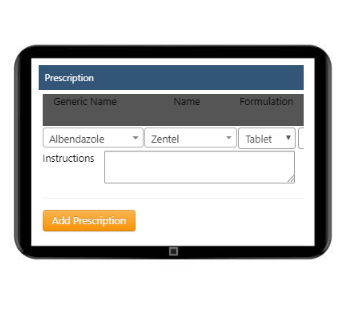 Billing
Generate Bills for your patients automatically with the Appointment. Manage your payment workflow as per your clinic's process. Have access to all your patient bills in one place. Track your total revenue and dues within seconds with our handy registers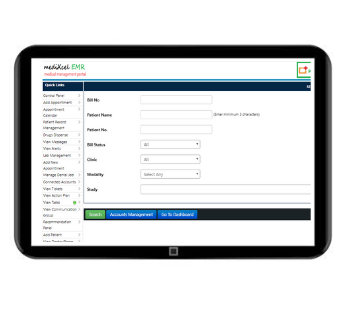 Tele-consults
Use our Google or Zoom Integrations to manage your
Tele-consults. A single verification and your good to go. Even get payments online before your consults start.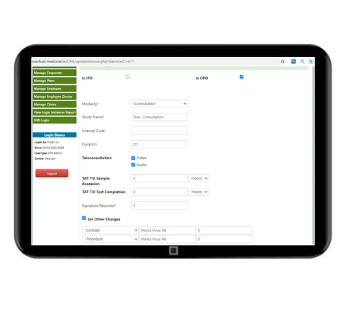 MediXcelConnect helps you connect with your patients even when they cannot be present at your clinic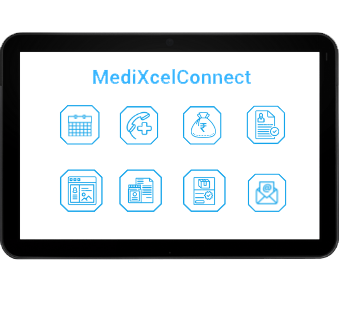 MediXcelConnect: Digitize your Clinic within a day
Read more about our solution by downloading our product notes.
MediXcelConnect (1)

Download
Choose your perfect plan
We have 2 Simple Plans for a Clinic or a Hospital OPD setup. Sign-up today for a 30-day free trial before you pay a single rupee!
Base Plan: Only Yearly
INR 7,500 All inclusive
• 30 Day free trial
• Add up to 2 Users
• Manage Up to 1 doctor
• Digital Prescriptions
• SMS Reminders(5000 credits)
Advanced Plan: Only Yearly
INR 12,000 All inclusive
• 30 Day free trial
• Add up to 5 Users
• Manage Up to 3 Doctors
• Digital Prescriptions
• SMS Reminders(12000 credits)
• Tele-Consult Module
Frequently Asked Questions
---
Got a question? We've got answers. If you have some other questions, contact us using email.
Is this a secure site for storing Medical Records?
Yes, we have provided SSL encryption for data in transit and database level checks for all your data when it is at rest.
While not needed, we cover all HIPAA regulations and also norms as laid out by the Indian EMR standards notified by the Govt. of India (https://www.nhp.gov.in
/ehr_standards_mtl_mtl).
We also provide secure access level based logins for each user, and maintain a secure audit trail for each transaction and entry in the system. We are also hosted on AWS which is a HIPAA compliant Secure Cloud Server provider.
Can I try the service for free?
Yes you can! We offer a free 30 day trial for each of our clients. They can sign-up, get setup and undergo basic training. Once they are satisfied and happy we can move onto the paid plan after 30 days of usage. During the trial period you have access to all the features of your selected plan
Can I cancel my subscription?
Once signed up and paid after the free trial we charge an annual fee. Since we block space and spend time and effort on the setup and training, we do not offer any refunds on cancellation within the year. You can stop using the solution and send us a written confirmation of stopping the service by emailing medixcelsupport@plus91.in
We will freeze all your users and share your data in an excel sheet within 48 hours
Who owns the Medical Records I add on the EMR?
All data added by you into MediXcelConnect will be owned by you. As per the Govt. Of India notified norms the patients have rights over their Personal Health Information. So not withstanding this order and any legal requirement to maintain the sanctity of this order, all medical information added by you related to your patients will be owned by you.
Are Tele-Consults Legal?
Yes, Government of India recently, due to the COVID-19 outbreak has allowed medical
professionals' to conduct consultations online. The exact orders are given
here:
https://www.mohfw.gov.in
/pdf/Telemedicine.pdf
Do you provide Support and Training?
Yes. Our support terms are pretty straightforward. We will look and take care of each and every query or issue you raise as per the support standards mentioned in our Terms and Conditions. We provide active support.
We also provide training online, apart from the Video and Screenshot based Help Files which are available inside the application.
Do you have multiple access rights for Users?
Yes, we have created User Profiles with various access rights, e.g. Doctor, Nurse, Receptionist etc. We will provide the Access rights for each of the User Types during training to help you assign them to each of your Clinic's employee.We also provide training online, apart from the Video and Screenshot based Help Files which are available inside the application.
Can you print or email prescriptions from MediXcelConnect?
Yes, MediXcelConnect has an advanced Digital Prescription Pad with a database of medicines connected to it. The medicines come with brand names, generic names, strength, formulation and other key information. It also throws alerts for contra-indications if added in the Patient's consult notes. MediXcelConnect also has a templating engine and a Refill option for quick Prescription generation. What's more we support emailing and SMSing of the prescription to the clients. The prescription format is as per the MCI guidelines for an ideal prescription.
Can we use MediXcelConnect on the Phone or Tablet?
Yes, MediXcelConnect can be used seamlessly on your Phone or Tablet Google Chrome browser. It is responsive and tablet friendly and can also be accessed on the phone to review notes and appointment lists. Being on the cloud it is highly secure but easily accessible given the right credentials. MediXcelConnect does not store any data on your device.